Last week I joined in the Jisc #OLsuccess week lead by Lou McGill and Helen Beetham. A round-up can be found on their blog area. Online students could participate via polls, short survey, Twitter or the discussion forum.
I have tried to collate my thoughts into this diagram however a couple of things have niggled away at the back of my head since.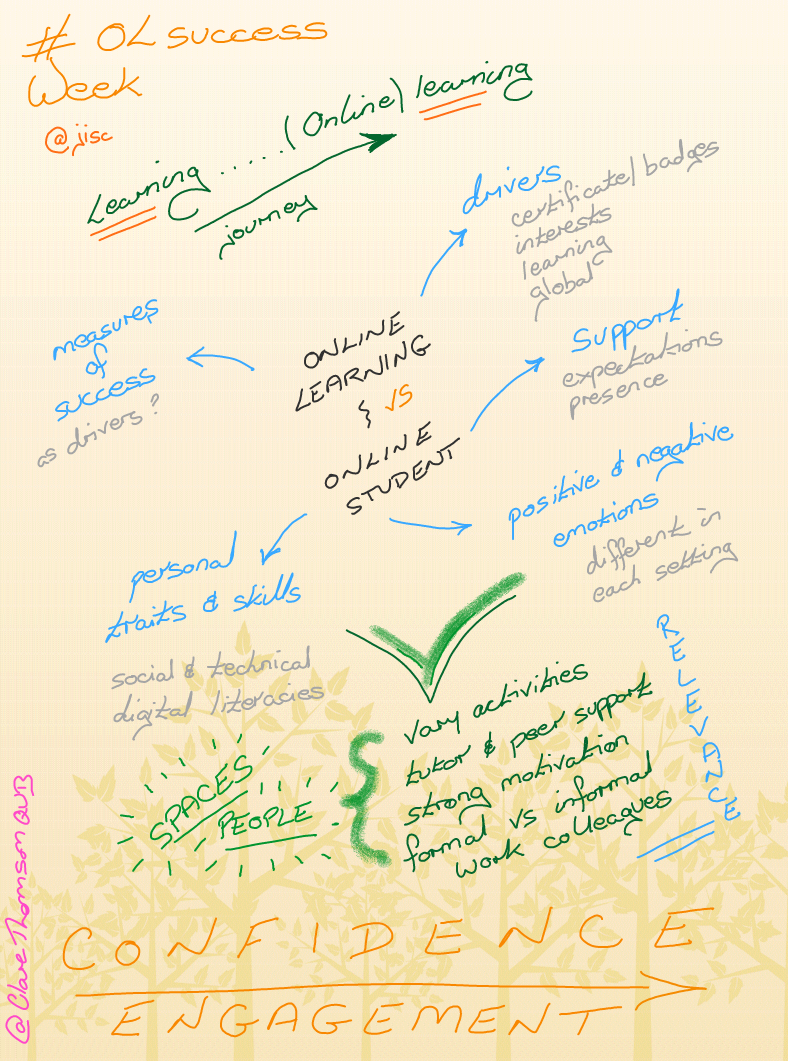 As a learning technologist are my views on online learning completely at odds with other learners?  As I am so comfortable with technology do I remove that element from the equation and debate (I haven't even added it on my scribbles)?  The quality of the course content, the level of engagement of both staff and students, the activities, how much I am challenged – these are the things that matter to me. Technology should sit underneath supporting and enhancing.
Helen also made a comment in the forum regarding using the Internet for learning on an ad hoc basis. I fully agree with this idea as I don't just count 'courses' as sources of learning. Every day I find solutions on forums, blogs, support pages for software, video sites, Twitter, books, papers etc and I definitely consider this online learning.
During day 4 I was attending an offline conference during which I reflected on just how much more comfortable I am communicating online. I like having the time to think before contributing, sometimes writing and rewriting answers/replies several times. Meeting strangers is also difficult for me. Both f2f and online conferences, as courses, are vital in their own ways and have their own strengths in context, but can I learn about support for online learners by thinking of my uncomfortable face-to-face situations?
All in all the discussions in the project will add to my learning on advising and supporting students in blended and fully online environments. So there you go another bit online learning success…