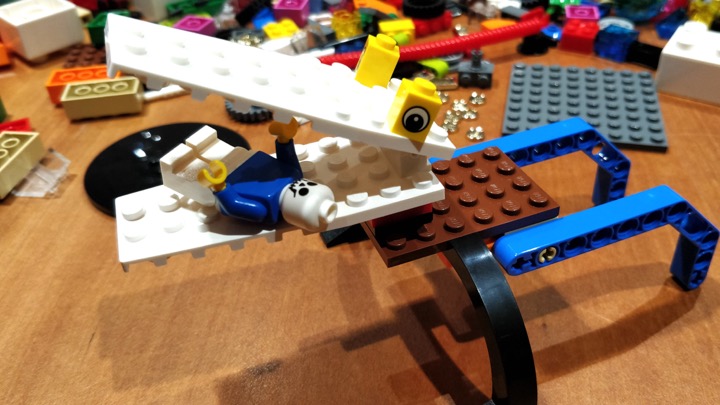 I went into my first day unsure of what to expect. Having previously facilitated LEGO® SERIOUS PLAY® workshops I was slightly apprehensive that I might learn that there were hard and fast rules to follow, rather than the free flowing approach I had taken using case studies online. Also, what if you had to use only the specific LEGO SERIOUS PLAY (LSP) build packages?
Luckily, it became clear early on that whilst there is a set methodology and general structures to follow on the whole it is a very flexible technique that you can tailor to fit your situation and needs as far as your imagination can go.
The day flowed between the build table and the debrief table which kept us moving and prevented the energy levels from flagging. One of the first things I learned almost immediately was that DUPLO® bricks can connect to standard LEGO® bricks – mind blown.
Over the day we covered the different application techniques, when not to use LSP, the breakdown of posing good questions, the best conditions for insightful workshop success (these applied to ourselves as trainees as well as LSP attendees). However, getting the hands on experience of being a workshop attendee was the most valuable of the day. Whilst at the build table we were fully immersed as attendees and not in the mindset of trainers at all. All questions were kept for the debrief table afterwards.
Shared model and more individual models #wdlspadventure pic.twitter.com/LRrzdOi60P

— Clare Thomson (@ClareThomsonQUB) May 14, 2018
By the end of the day we had covered building individual models, building shared models and creating a landscape (the latter two were both new to me). It was amazing how quickly we came together as a group considering we had only met for the first time a few hours before. This highlighted yet again, for me, how valuable this technique can be for team building purposes.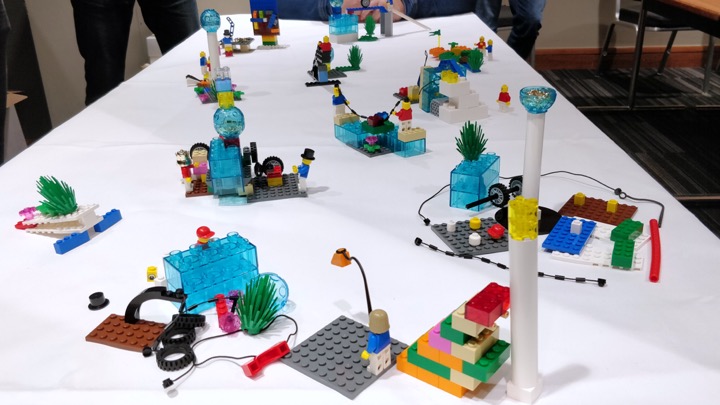 Key learning point for me: Moving from 3D to 2D always and immediately kills the energy in the room so avoid paper and pens.
To finish off the day we covered the trademark rules, which was incredibly insightful, and how both the written text as well as images are to be used in our work, from flyers to papers. For example, in writing the name the very first instance has to be LEGO® SERIOUS PLAY® and thereafter the ® can be dropped.
As day 1 for me started at 4.30am I wasn't sure that I would keep the pace required for the whole day but I didn't need to worry, the energy in the room and the pace kept me moving both mentally and physically. Of course the sweets and coffee provided throughout the day also played an important role. However, all that being said I am pretty exhausted now so I am going to sign off now and get some sleep before another full day tomorrow.