I fully underestimated just how tiring training would be and I didn't manage to get my notes from my book into this space until now, a full two weeks later so I'm not sure how the gap will affect my reflections and I will probably miss out bits and pieces.
Anyway, we started out by recapping on day 1, noting that the role of the facilitator is to ensure:
everyone is working together
people are working in and out of flow
there is lots of 'leaning in' to be seen around the room
there is lots of storytelling going on between builds
everyone is seeing and hearing the stories
It was a ducky start to the day #wdlspadventure pic.twitter.com/nDvYYp7bEy

— Clare Thomson (@ClareThomsonQUB) May 15, 2018
The duck exercise was a really quick and useful exercise to see just how powerful the 3D element of LSP can be compared with the 2D. The room was full of very different looking ducks, considering we all had the same 6 bricks.
Moving back to the build table we had a re-connection exercise. Here we had to choose eight bricks of which three had to be a small ladder, a single eye and a flower. Our task was to build something about work selves. However, when it came to sharing our stories, our facilitator threw us a curve ball and gave us totally random sentences that had to integrated into our stories.
Next we got started on the individual task that would grow over the whole day into a giant creation, the concept of layering and deepening was introduced at this point. We began by building our core selves, added aspirational and finally a common aspiration for the whole group – becoming LSP facilitators.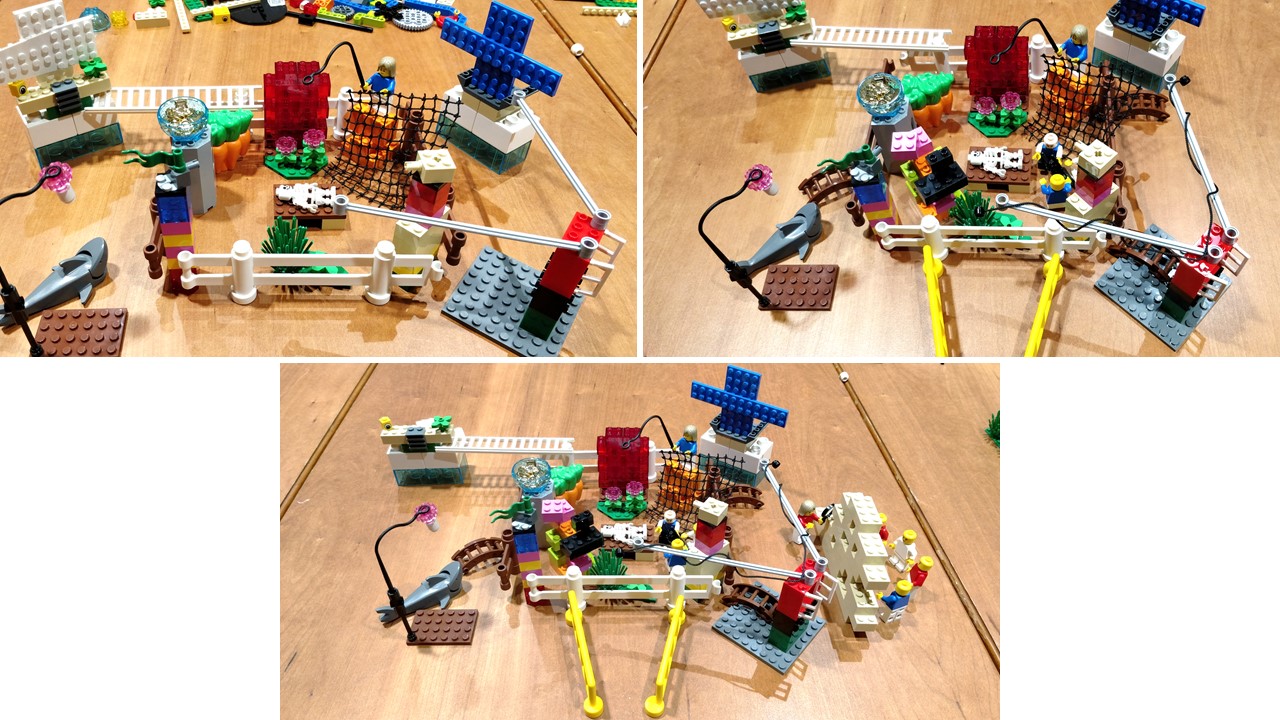 You can see from the photos above that there are subtle changes to the original core build which represented my work environment, how I would like to change it and how I see LSP within it.
Tips

Watch out for too much talking than isn't centred on the build

Don't set an overly simple task

Beware dominant participants don't overshadow quieter voices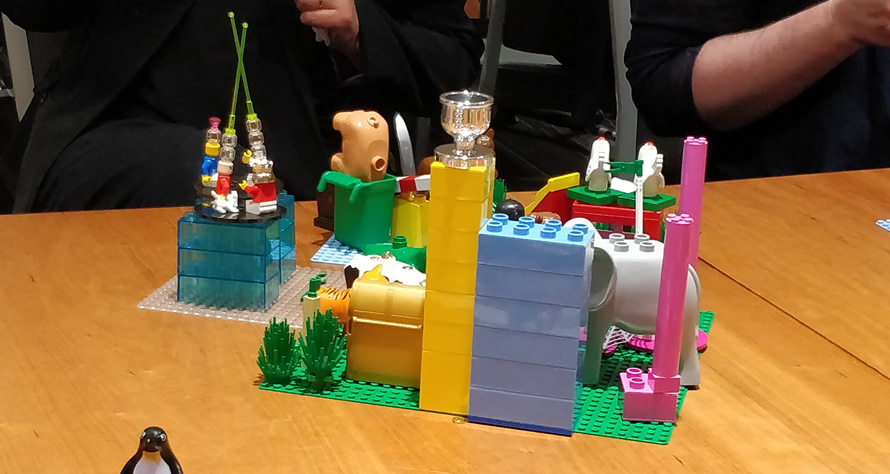 We then worked together as a group to take elements of each of individual build to create one single shared build. Lots of communication, negotiation, democracy, checking, thinking out loud.
So this is the result of taking bits from 11 giant individual builds of the morning into one shared model: all of us in agreement #wdlspadventure pic.twitter.com/XNPnWy7xza

— Clare Thomson (@ClareThomsonQUB) May 16, 2018
Agents
Another new concept – agents – used for memory. We began by building one agent each related to our group build of us as a LSP community. Then we placed each in the most appropriate place around the shared build. Note: all with equal spacing. Next we built as many agents as we could think of and arranged around the central model. Now our build is too build to even fit into a single photo.

A giant memory game were we remembered each element (mostly!). It also looked pretty impressive for a entire days work.
A wee note on language! There were twelve of us in the room and four languages. This meant being clear and careful in the words chosen and additional time was spent focusing on individual words. Somewhat ironically it was my Northern Irish accent that caused confusion at times. For example, I built the tower agent at the back above and in my accent tower sounds like tar! That conversation took a lot longer than it should have, to be sure.