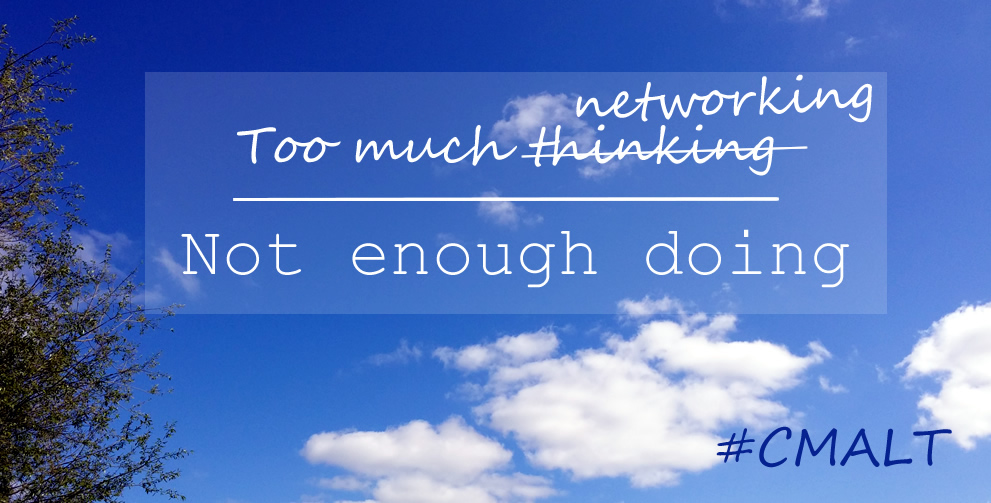 It has been several months since I first blogged about my # CMALT frustrations and whilst I haven't actually succeeded in writing much more I have had so many unexpected benefits since the post. I would never have guessed at just how much my approach to CPD would change and grow from putting my thoughts out in the open. So just what has happened since May?
Deadlines
Since my post #ALT has set three dates across the year for submission of portfolios, called submission windows (February, June and October). For me this is a bonus as having an 'open' deadline was definitely not working to encourage me to complete. Now I am working towards the first of October 2016 which means a mere 25 days…
Support
This came in two different forms – the first via virtual encouragement both from those who had already achieved CMALT and also those still working on it. It is always a boost to find that others are having the same difficulties and how people overcame them.
Seconly, by putting my thoughts online I bizarrely discovered two colleagues in my own institution who are also thinking of starting their portfolios. We have since started a writing group and l gained a lot from the first of these already. Sharing information and stories was an additional side benefit of meeting up.
Networking
In addition, to the support routes above a Twitter conversation has been taking place over a month or so with several people who are working on their portfolio and who are planning to meet at the ALT conference to discuss further, For those of us who are, sadly, unable to attend in Warwick a Hangout is a possibility.
Content
May through to September is my busiest work period so l haven't managed to actually write much since my post as I said but with all the consequences of opening my practice I now have so much more to write about in only a few short months. Definitely, a wealth of things to reflect on.
Higher Education Academy Fellowship
Unexpectedly the HEA fellowship route was brought to my attention internally and for a couple of weeks I was unsure which to concentrate on first. However after musing this over in the Twitter conversation mentioned above Martin Hawskey pointed us to the incredibly useful document 'How CMALT can be mapped to the UKPSF' . After reading this, the HEA guidelines and taking into account the October deadline I am going to go for CMALT first but start my Fellowship application as soon as I have submitted.
As I am on my countdown to completion I am appreciating all the help and support coming from so many, you all know who you are.
All in all autumn is going to be writing intensive as my next MSc module involves blogging, commenting and reflecting – I am starting to see a pattern here ….
I can do this.