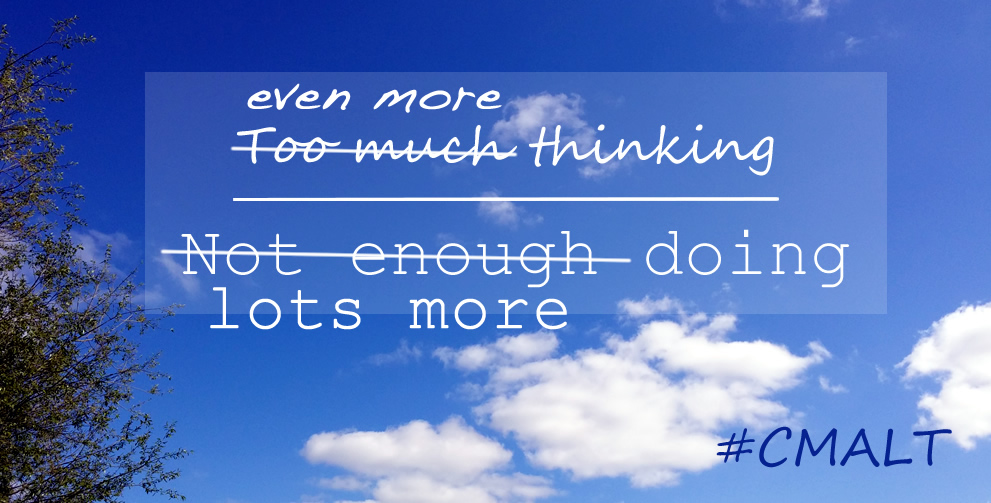 At this point the title of this series '#CMALT is driving me crazy' maybe needs updated to '#CMALT drove me crazy' as I officially received my certificate and badge in January. It was even more exciting as I wasn't required to make any changes. Cue an immediate celebration on Twitter but it is now time to update my reflections in this space.
Monday excitement – I'm now a #CMALT certified member of #altc (dances around office). Special thanks to @ladyculottes & all tagged in pic pic.twitter.com/hIH5hxCe38

— Clare Thomson (@ClareThomsonQUB) January 16, 2017
Feedback and becoming an Assessor
Initially, I was so ecstatic and busy that I barely skimmed over my feedback, filing it away for a rainy day. I have indicated in previous posts that I would like to become an assessor for portfolios and when Tom suggested it I decided to jump straight in.
ALT as always provided really helpful support in the form of guidelines and a live webinar with great hands on advice. It was really interesting to view the portfolio process from the other side of the table.
It was at this point that I turned to my own feedback for further insight. So having been through it what would I have done differently? It turns out that the one thing that needed attention was completely the opposite of what I thought throughout the build of my portfolio.
For years I put off completing it believing I didn't have 'enough' experience to contribute to the process. So part of my procrastination involved internal thoughts such as 'if I just get this project finished …' or 'if I achieve that training then I can try for CMALT'. If I could time travel and give myself advice from hindsight, it would be 'just go for it, don't wait'.
The reason for that advice is, I suspect, that it was difficult to provide a clear picture for the assessors in places because I waited so long! A balance between sufficient experience and a web of complexity is a balancing act. I had so many projects and sub-projects that in places I think showing a clear route through became tricky. Also, in a couple of instances the complexity didn't allow me to see that I had evidence in non-assessed pages that would have answered a question in another area.
My take home messages:
select small concise examples and make them shine.
in the review phase, edit, edit and edit again to ensure clarity in all areas
call on as many friends/colleagues/social media connections for review as possible
I have now assessed one portfolio and enjoyed the new learning experience as an assessor, a CMALT holder and an EdTech practitioner. I am proud to be able to say I am now a CMALT assessor, albeit, an extremely novice one.
Next stop for me is to get my portfolio added to the list of examples and to continue to encourage others to have a go; come on, you know you want to….