My good Twitter friend and fellow #mscde colleague Sandra sent me this lovely message back in January. I side stepped the issue by replying with a brief message back to say I was adding the advice chart to my (never ending) reading list. Sandra is also inspirational in her regular posts about her journey on Pathway to PhD which I thoroughly recommend.
@ClareThomsonQUB Guess your first 100 days are in the bag?? https://t.co/f8Zt3OP4aK

— Sandra Flynn (@SandraEFlynn) January 30, 2019
Reality, in contrast to the neat, logical list of tasks I should be doing as per Sandra's Tweet, was chaos and the fog had descended. I was writing a grant application, my Senior HEA Fellowship application and a paper (all of which were successful so yay on that front) as well as a job interview as well as work. At one point I even considered submitting a temporary withdrawal but as usual my stubbornness won out and I battled on, managing to read, write and submit papers for meetings. However, I do remember writing this for my December paper which was a feeling that persisted during this time (most honest would have been that I had lost the plot, rather than the map):
I have now rewritten the content for this several times. I know what I need to do but I don't know what I need to do; I've lost the map.
This was the point that my poor supervisors learned a key thing about me – I don't share worry until the problem is resolved. Always have. I go quiet during stressful times; nothing on Twitter, nothing to my supervisors, nothing to fellow students, nothing to the university, nothing on my blog (the gap of posts is clearly visible). Only one or two close friends get to endure my stresses. I have always been a solitary problem solver, but the thing is I do always solve the problem – somehow, at some point. That's when I finally openly admit to what was happening and I'm not entirely sure I can or want to change that, but I will make an effort to be better at forewarning serious issues (promise).
Anyway, on to more interesting aspects of PhD life. My supervisors asked me early on about my logistics and approach to my study; was I setting aside a day a week/clearing part of the weekend/evenings?. This remains messy in parallel with my life as a whole. I read whenever I can and save all relevant papers to a Dropbox folder and make handwritten notes in an A5 portable and beautiful notebook (very important that it is beautiful), meeting notes in contrast to this are made at the time in a more utilitarian book, bigger but still aesthetic. I mull over our discussions for a period of time before transferring the notes to my meeting template (from iThinkWell.com) and forwarding on to my supervisors with responses to some of their comments on my previous papers. During the crisis months this period was quite extended but as things have smoothed somewhat I am able to react and respond faster – perhaps to do with finding a surer ground on several fronts.
At the point of around five months in, the topic still seemed so vast and nothing unique was standing out for me. What avenue will I focus in on? What area of knowledge could I most contribute to? I also had a personal debate with myself and supervisors around the level of expertise needed beforehand on the actual topic of reflective practice. For some reason I felt that it was important that I had personal experience and knowledge of reflective practice, but if I was doing a bench science project directly after my undergraduate degree I wouldn't have worried at all about that. Most likely it is connected with identity, perhaps stemming from researching within a discipline where I am neither a clinician nor an academic, so I feel defensive as to what 'qualifications' justify me carrying this work out. Pragmatically, I have parked this for now. I'm a researcher, focusing on a topical and interesting area of medical education that will have transferable relevance to other disciplines and I am going to learn A LOT over the coming years about this.
We also discussed reference managers. I used citethisforme throughout my masters adding references as I wrote, both in text and bibliography. However, I acknowledged this was not a working model for a project of this scale. So I investigated Mendeley and rejected it after a few months – owned by publishing giant combined with limited functionality when using my student institutional login credentials. I then turned to open source Zotero, on Jen's recommendation, which I am slowly working out.
With the lack of clarity in my mind, I attempted to visualise my thoughts and created this sketchnote in February. Trying to pin down or at least divide the different aspects of all my readings so far. Which did in turn start to change the directions of our conversations – but that's for the next post…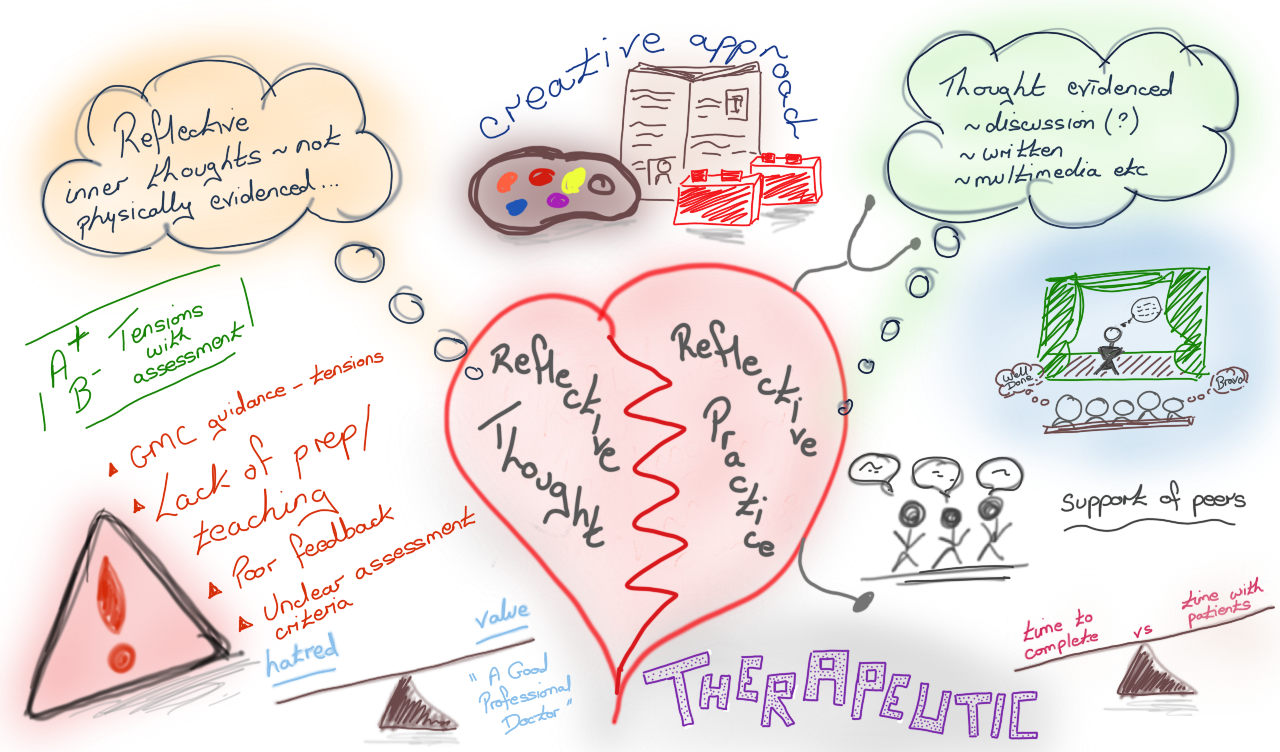 Despite my independent approach to my PhD if anyone reading this is in the same boat – are um 'older', studying part time, at a distance (but not officially so), parents to school age children and working full time please do say a virtual 'hi'. Because really, many will say what a ridiculous undertaking this is but, well, raspberries to that.